The lodging have space for 8 people.
It consists of 2 bedrooms for 4 people, a toilet, a bathroom, a kitchen/dining room with direct access to a large terrace. Inside an outbuilding, overlooking the garden, there are a resting room and a room to put down your bags and shoes. In the wooded area, a small shelter can accommodate the donkeys that accompany some of you on the way. (Sorry, our dog friends are not allowed).
Bedrooms
room 1 :  2 bunk beds 90 x 190 – (posssibility 1 single bed 90 x 190 more)
room 2 :  1 bunk bed 90 x 190 – 1 mezzanine bed 90 x 200 – 1 single bed 90 x 190
We provide, sheets, blankets, pillows and washable pillowcases for each bed.
For reasons of hygiene and due to bed bug prevention, personal sleeping bags, sheets and blankets are prohibited.
Kitchen/dining-room
Includes an oven, a stove and a fridge, tableware and kitchenware to cook your meals.
Two tables inside and another one on the terrace for sunny days.
Bathroom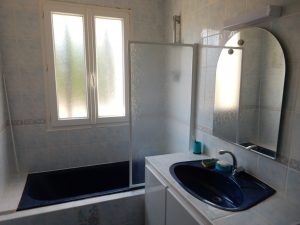 Resting room
To relax upon arrival, after you put down your backpacks and shoes.
We provide flip-flops, if needed.
Outside